That's Pretty Neat #2: "Shut Up and Take My Money"
Whew, already been through a week of neat stuff.  This time, everything sort of had one common theme; it all made me really, really want to buy stuff.  Let's check out some of the neatest stuff from around the web.
A+ for PS+
I've told people this before, and I won't hesitate to say it again: PlayStation Plus is the best deal in gaming, period.  That's even to say it's better than Steam sales (oh snap, I WENT THERE).
Sony decided to prove this point by rolling out an extremely hefty and utterly awesome June update.  Not only did they find it in their hearts to include two AAA titles (the superb Deus Ex: Human Revolution and the unstoppably chaotic Saints Row: The Third), but they even tacked on an award winning downloadable title (Machinarium) and two beloved handheld titles (Zero Escape: Virtue's Last Reward and Gods Eater Burst).
Unfortunately, they removed three mainstay titles in InFamous 2, Ratchet & Clank: All 4 One, and LittleBigPlanet 2.  Don't be discouraged, though: replacing them this Tuesday will be Uncharted 3, XCOM: Enemy Unknown, and LittleBigPlanet Karting.  There's a lot to love about PlayStation Network's subscription service.
Injustice: Scorpion's Among Us
Coming this Tuesday, you can relive your glory days of the amazing fight game… Mortal Kombat vs DC Universe! Â The DLC characters have been pretty strange for Injustice. Â Lobo was first up, and a rather odd addition to the roster of A-listers. Â Then came the 328th character (rough estimate) to appear from the Batman comics, Batgirl. Â And finally, for another five bucks, you can be yelling "GET OVER HERE" in Superman's face.
Screw it, where do I sign up?
Gotta Name 'Em All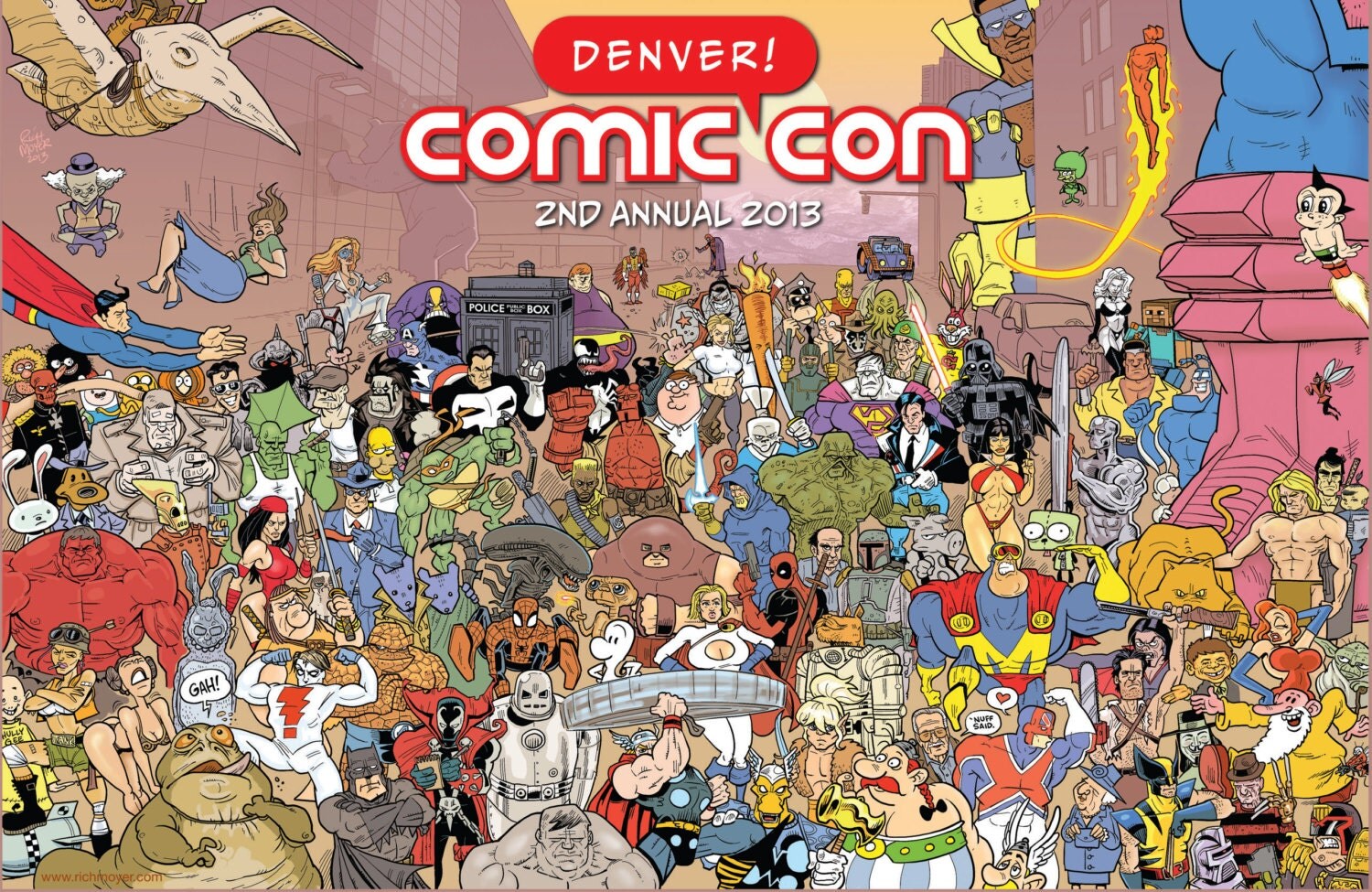 Cartoonist Rich Moyer put together this little collage of geekiness you see above. Â Filled with gaming references, comic book heroes, cartoon characters, fantasy legends, and anything else you could imagine someone cosplaying, this is truly a work of art.
You can click the picture to enlarge it, and order for a limited time from etsy. Â If you can name everyone there, you have my respect. Â Which, admittedly, doesn't come very often.
<3 4Â 

TLOU
The Last of Us, the Sony exclusive that is making Xbox junkies everywhere jealous, is showing no signs that its popularity will ever come down. Â With the review embargo lifted last week, the game has jettisoned to the top of metacritic with an oustanding 96/100, with 30 perfect scores.
It comes out this Friday. Â This is going to be the longest week EVER.
My Understanding Is Dead
The latest game from Suda 51—better known as the crazy/possibly-on-drugs guy who brought us Lollipop Chainsaw—is a cell-shaded, spiritual successor to one of his earlier titles, Killer 7.
It's titled Killer is Dead. Â The trailer is below, and you should really watch it. Â Because it's bonkers.
I recommend not trying to understand what you just saw. Â You'll only end up hurting yourself.
With a ton of neat stuff going on this week, most of it made me want to spend money. Â Even when it seems like the cost of gaming is going up, though, just be reassured that there's still plenty of free stuff out there to enjoy. Â Like the fact that free-to-play titles DC Universe Online, Planetside 2, and Warframe have all been announced as PS4 titles.
Shut up and take my free time!